09/20/2022 12:41 | Analyses
Germany continues to decline economically. According to statistics, year-on-year producer price inflation increased from 37.2% in July to 45.8% in August. Germany has never experienced such an increase during the measurement period, not even in the 1970s during the oil shocks. The increase was also noted by J&T Bank chief economist Petr Sklenář. Given the economic interdependence of the two countries, he expects that the impact on the Czech Republic will not be positive. They speak of recession, even of the economic crisis.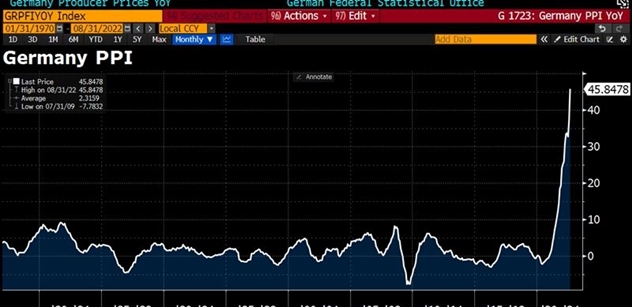 Survey
Anyone who demonstrates after the government price cap will only demonstrate for a pro-Russian orientation, Kalousek says. It's right?
voted: 25081 people
The war in Ukraine is causing the breaking of borders and records in the rest of Europe. But mostly not the ones that interest anyone. For example in Germany. As reported by German economic journalist Holger Zschäpitz, inflation in Germany shows no signs of slowing. The PPI (Producer Price Index), which measures inflation on an annual basis, reached 45.8% in August, up from 37.2% in July. In practice, this means that producer prices in August of this year are almost half of what they were in August of last year.
This is an absolute record, during the time these statistics have been kept in Germany (since 1949), there has never been such an increase. Furthermore, the jump from 37.2 to 45.8% is the largest in the history of this metric. And Zschäpitz assumes that inflation is far from over.
Good morning from #Germany where is it #inflation soaring pressure. The PPI accelerated to 45.8% in August year-on-year from 37.2% in July, the highest price increase since the statistics began in 1949. Compared to the previous month, the PPI jumped 7.9% in August, also the highest increase ever. pic.twitter.com/ljKbKYSSWy

– Holger Zschaepitz (@Schuldensuehner) September 20, 2022
Peak #inflation? Not in #Germany! German consumer prices (CPI) are likely to rise further after producer prices (PPI) rose by nearly 46% in August, the strongest increase since 1949. pic.twitter.com/AKv5ofYzCn

– Holger Zschaepitz (@Schuldensuehner) September 20, 2022
Survey
How will you vote in the municipal elections?
voted: 514 people
Statistics from Germany were also taken over by J&T Bank chief economist Petr Sklenář, who, according to his reaction, is appalled by such an increase. According to Sklenář, a stagnation was expected, meaning that prices would remain at the already high 37% compared to last year. As a reason, the economist cites a sharp increase in electricity and gas prices, which are also highly interconnected in Germany.
Even during the oil shocks, Germany did not experience such an increase. At that time, import prices increased by 34%, which is more than today, but producer and consumer prices were not affected that much. At the time, Germany had a significantly higher interest rate, the brand was strengthening, and it also wasn't trying to build green energy.
Sklenář views the possible impact of these numbers on the Czech Republic as negative. He predicts that this will lead to inflationary pressures, meaning further price increases, and rising input prices will increase the risk of the economy falling into a recession that could turn into an economic crisis.
German producer prices for August + 46% yoy ????
It is the highest growth since 1949, driving these statistics in Germany.
a stagnation of around 37% was expected.
?? the reason for the increase are energy prices (electricity + 175% yoy, gas + 209%).
?? without energy prices, prices in industry + 14.0% y / y

1 / n ?? pic.twitter.com/FixFgaovzW

– Petr Sklenar (@SklenarPetr) September 20, 2022
3/3
Analytically it must be added that compared to the present, in the 70s and 80s years ago ????
restrictive monetary policy (Bundesbank rates 7-8% + brand exchange rate strengthening)
other energy policy objectives (ensuring low cost energy vs. #Energy transition)

– Petr Sklenar (@SklenarPetr) September 20, 2022
IMHO negative.
– temporarily increases inflationary pressures (inflationary expectations)
– such an increase in input prices increases the risks of a recession, or rather of an economic crisis

– Petr Sklenar (@SklenarPetr) September 20, 2022
It is no secret that the Czech Republic and Germany are very closely linked economically. According to data from the Czech Statistical Office, Czech-German trade turnover last year was a record 2.152 trillion crowns and 31% of all Czech exports went to Germany.

Source: Czech Statistical Office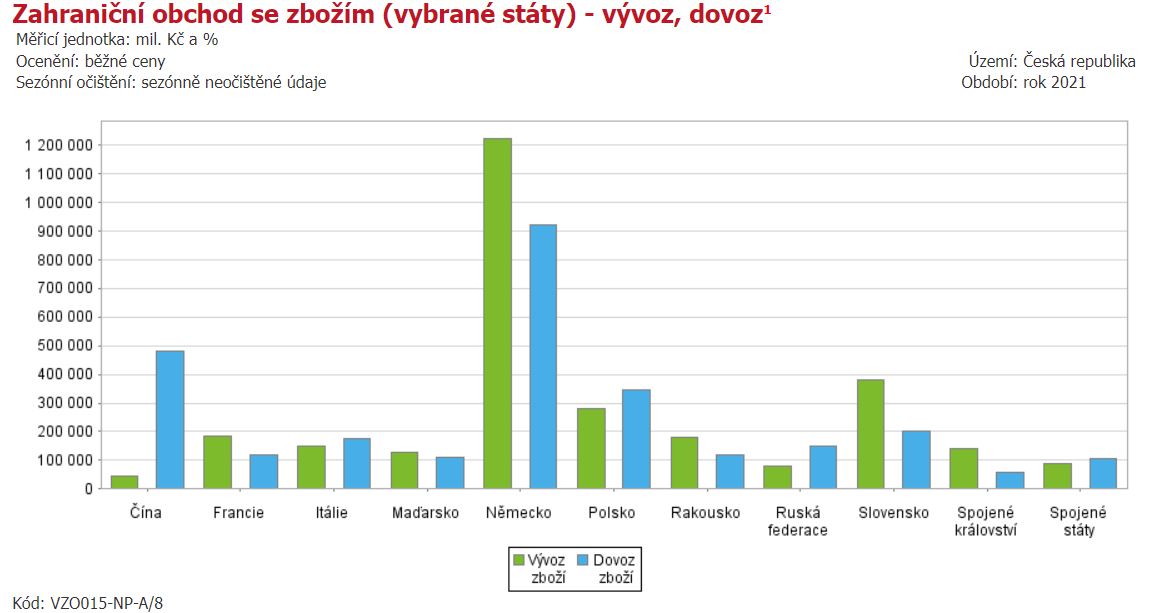 You can also support the editorial staff of PL by purchasing a subscription. We do not show ads to subscribers.
Are you a politician? Publish what you want without editing. Register here.
Are you a reader and want to communicate with your representatives? Register here.